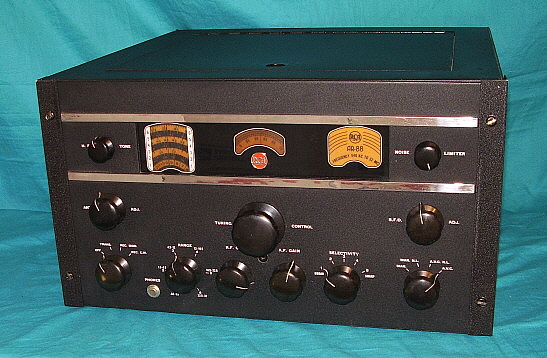 Details
Date of Manufacture:
Manuals and schematics :
Download Here
Also see "Getting the Utmost From the AR-88"
Tube and Semiconductor Complement:
13: 6SG7 6J5 6SA7 6H6 6SJ7 6V6GT VR150 5Y3GT
Model Notes
http://www.qsl.net/w2vtm/rca_equip.html
http://www.radioblvd.com/ar88.htm
http://www.cryptomuseum.com/df/ar88/index.htm
Specialized communications receiver with crystal filter and additional IF gain control for diversity reception. Continuous frequency coverage of 535 kHz to 32 MHz in 6 switched bands. Rack version only, used in RCA DR-89 diversity reception sets (3 receivers in common rack with monitoring unit, tone keyer and loudspeaker assy). Tube types above are listed only once. DR-89 racks have been supplied in quantities during WWII to the UK and the USSR by Lend-Lease Act in 1942-1945. AR-88-F receivers were quite common at USSR amateur radio operators in 1950s.