Eddystone 770R Mk II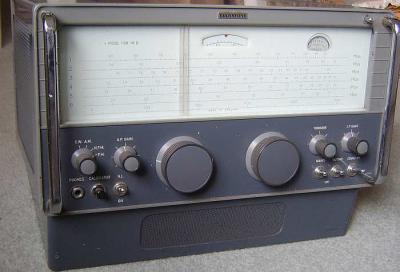 Details
Date of Manufacture:1961(?) to 1965
Manuals and schematics :
User manual: Download Here
Schematics: Download Here
Tube and Semiconductor Complement:
6AK5(3); 6BA6(4),6AU6(2),6AL5(2),EF91,12AU7(2),EL91(2,VR150/30,5Z4
Model Notes
The Eddystone 770R Mk 2 covers 19 to 165 MHz in 6 Wavebands. It has a turret tuner front-end with a 6AK5 as RF amplifier. The intermediate frequency is 5.2MHz. Operating modes are CW, AM, Narrow Band FM and Wide band FM. It has a crystal calibrator with pips every 5.0 MHz. Selectivity is adjusted according to mode automatically. It has a simple noise-limiter and features inter-station muting. The S-Meter circuit is driven by DC amplifier. In FM mode, the s-meter is used to zero-in on the station. The set has inter station muting on FM.
Controls
Controls are: Tuning, Bandswitch, AF Gain, IF Gain, Mode, Noise Limiter, Stand-By, Muting and Crystal Calibrator.
Performance
By modern standards, the set is rather insensitive. The single conversion design has poor image performance, resulting in pagers and security guards being heard all over the upper band. On a good aerial (discone) there is plenty to receive.
Alignment
Alignment of this set is more difficult than most if full performance is to be achieved. It is easy to degrade the audio performance on the broadcast band at the expense of selectivity on AM. The Foster-Seeley discriminator is best set up with a sweep generator.